Vasistha's Yoga (Yoga Vasistha)
The Yoga Vasistha
When Swami Venkatesananda was a young man he had the privilege to study a rare copy of one of the world's greatest scriptures, the Yoga Vasistha. It had last been translated about 1900 and was no longer available to the public. It became Swamiji's dream to one day translate it himself into English so that it could reach the world. Though a major scripture, it was not well known to those who could not study the original Sanskrit.
In the early 1970's Swamiji decided to begin the translation. He searched the world for a copy of the English edition he had studied as a young man, but was unable to locate a copy. Thus he worked solely from the Sanskrit original. In the midst of his world travels, he translated a minimum of one page per day and formatted it as daily readings with a page per day, covering two years—a total of 732 pages. He regarded the translation of this scripture as the crown jewel of his work and devoted one of his last major lecture series (in Western Australia--1982) to a discussion of The Yoga Vasistha.
His translation of The Yoga Vasistha was first published by the Chiltern Yoga Trust in South Africa in 1976 as a hard copy, two volume set. Later, in response to a request from a publisher, Swami Venkatesanana condensed it into a single volume during the winter of 1980-82, while traveling in India. None of the stories were omitted; only some insignificant details, such as battle scenes were removed. This single volume Yoga Vasistha was first published as a paperback in both Western Australia and Israel (translated into Hebrew by Priya Hart).
To ensure that The Yoga Vasistha would both reach a wider readership and be in right professional hands to preserve it, Swamiji accepted an offer from SUNY Press (State University of New York) to publish it in the single volume format. Later SUNY Press published the full text, though presenting it in one hard cover volume. Both editions became part of SUNY's permanent book catalog. (see the link below)

Thanks to SUNY Press, we can expect to see The Yoga Vasistha available for many generations. It may be ordered directly from SUNY press in both hard cover and paperback.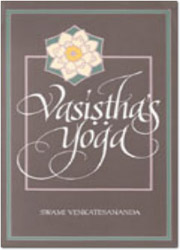 Vasistha's Yoga is the SUNY Press edition of Swami Venkatesananda's Yoga Vasistha, edited into one volume, available in both cloth and paperback, both with an Introduction from a prestigious academic, an index and bibliography and with page numbers substituted for the dates as in former editions. Like the previous editions, the text makes extensive use of stories and allegories to convey its profound metaphysical concepts. It is regarded as the 'last word' in metaphysical teachings.
$44.95 Paperback (New) - 767 pages
ISBN: 0-7914-1364-0

Book Version available online here: North America - SUNY PRESS - The Yoga Vasistha
Order the complete video series!
The final lectures on The Yoga Vasistha given in 1982 by Swami Venkatesananda in Western Australia, and made available on seven DVDs containing roughly fourteen hours of video, with this entire set of seven DVDs (roughly 14 hours) made available for the low price of $55 Australian (about $40 USA currently) plus economical low cost air freight added to your order. To order please visit the Sivananda Ashram site at the Beacon Hill Yoga Centre in Fremantle, Western Australia by clicking here, or if you have any questions please feel to write Shoba Day at Sivananda/Beacon Hill Yoga Centre at info@sivanandaashram.org.au