Early Years in India
Born to a South Indian Brahmin family in 1921 and given the name Srinivasa Parthasarathy, he used to love to take part in religious observances.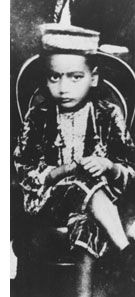 He was intelligent and full of fun. This was a trait that endeared him to many, both in his childhood and in his later life, when, as Swami Venkatesananda , he lived in Sivananda Ashram Rishikesh, and later traveled to the West, illustrating everyday concepts we live by with his humorous stories.
At the age of fourteen he discovered a book by Swami Sivananda in a bookshop. He was so impressed that he wrote to Swami Sivananda asking if he could join him. Swami Sivananda told him to finish his education and then come.
On leaving school he studied shorthand and typing, coming first in the examination.
After working at the Madras Corporation he obtained the position of Private Secretary to the Minister for War in Calcutta. In this capacity he was one day asked to escort some V.I.P.'s to Rishikesh. When he realized that he might be able to meet Swami Sivananda, his joy knew no bounds.
While the V.I.P.'s were resting in Rishikesh town, he went to the Sivananda Ashram office and asked to see Swami Sivananda. He was told that that Swami Sivananda was resting, and he wouldn't be able to meet him. He was walking near Sivananda's room when he himself unexpectedly came out of the room. He greeted Parthasarathy with "Ah! So you have come!" and Gurudev asked him to stay at the Sivananda Ashram. After fulfilling his work commitments for a year, he returned to Rishikesh to stay.