Introduction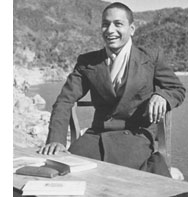 Just as it would be an oversimplification to say that Swami Sivananda's message could be reduced to his famous but often misunderstood "Be Good, Do Good!" it would be equally misleading to suggest, as some have done, that it was also the major message of Swami Venkatesananda. Yes, Swami Venkatesananda did speak about "Be Good, Do Good" but in his inimitable way, it was mostly to point out that the famous statement was not so much a slogan as a formula; that being good was essential first, and that from that being of goodness, all the business of doing ... flowed; that one one had to BE good in order to do real good.


That example of re-examining a traditional teaching and getting us to see the deeper truths, often hidden in plain sight, offers a glimpse into what was to become something of an occupation for Swami Venkatesananda, the re-examination of our traditional spiritual teachings. As both a scholar and yogi (as someone who was intimately aware of both traditional spiritual writings and intimate with the actual practice of yoga and meditation), he was in a unique position to re-examine our traditional teachings and bring us closer to their inner meaning and purpose.
His subjects for discussion were, as you will see on this web site so wide-ranging as to almost defy categorization. It would be no exaggeration to say that Swami Venkatesananda was the most unconventional of Swami Sivananda's major disciple,; and while he had an abiding appreciation of the traditional teachings of India, his daily discussions were far less in praise of traditional yoga teachings, and far more focussed on the daily practical challenges of the spiritual path. Yes, he often spoke about traditional teachings, but he merely did so as the entry point; not to affirm specific teachings but mainly to shed light on common misconceptions about yoga and the spiritual path. He likened the spiritual path to the "Razor's Edge," far too subtle for eye to see, or for the mind to understand. And like his close friend, J. Krishnamurti, he insisted that we should not follow the advice or thinking of others, even religious and spiritual leaders. Rather, he would insist that we must, each one of us, be a light unto ourselves.

Swami Venkatesananda (Parthsarathy as he was known then) was born in Tanjore on December 29th, 1921, to a South Indian Brahmin family.(EARLY YEARS) He learned Sanskrit at an early age from his uncle and grandfather, and used to love to take part in religious observances. He was not only scholarly but full of fun (a trait which endeared him in later life when, as a Swami, he travelled in the West, illustrating the everyday concepts we live by with his humorous stories).
At the age of fourteen he discovered a book by Swami Sivananda in a bookshop. He was so impressed that he wrote to Swami Sivananda asking if he could join him in his ashram. Swami Sivananda told him to finish his education and then come to Rishikesh. (RISHIKESH) On leaving school, he studied shorthand and typing, coming first in the examination. After working for the Madras Corporation, he obtained the position of Private Secretary to the Minister of War in Calcutta; most suitably, as a member of the diplomatic core. In this capacity one day he was asked to escort some V.I.P.s to Haridwar and Rishikesh. He visited Sivananda Ashram and was told that Swami Sivananda was resting and he wouldn't be able to meet him. Shortly after, Sivananda unexpectedly came out. He looked at Parthasarathy and said, "So. You have come!"
Sivananda put him to work immediately: kitchen, temple, office, and printing press. After that he became the "right hand" of Swami Sivananda, working on the Master's books, answering many of the Master's letters, and generally helping in the Master's day to day activities. In 1963, Swamiji was sent to South Africa. During his years there, his fame as a riveting speaker grew and speaking invitations begain to pour in. Soon these engagements began propelling him around the world. By the early 1970s, he rarely stayed in one place more than several weeks. While his passport disclosed that Rishikesh was his home, his constant travelling freed him from the trials and tribulations of becoming a leader of spiritual organization. As some of us noted, moving from place to place all the time certainly made it extraodinarily difficult for anyone to "follow him." And so, it could be said that his constant traveling afforded him the distinct benefit of being able to focus upon various projects (chief among them, his translation of The Yoga Vasistha and other scriptures). It might also be noted that this constant traveling allowed him to successfully avoid, as he called it, "the guru business" entirely!
There is quite a legacy that Swami Venkatesananda has left in the wake of his lifetime, but he might be the first to say that the legacy all belongs to his master, Swami Sivananda. We have only photos, audios and movies of both yogis, and these pale in comparison to what it was like to experience the two in real life. In truth, you had to live with them closeup to appreciate that yoga could truly be embodied in the human form; something that many of us were skeptical of until we actually experienced the presence of these two great yogis. 

 Nevertheless, the books, audio and video are all that remain. So we share them with those who were privileged enough to have met them, and those who came afterwards, who seek to know if true yogis walked amongst us, and to learn from what they have left behind. 


Here are a few links to some other web sites that link to videos of Swami Venkatesananda's yoga master, H.H. Sri Swami Sivananda:
YouTube on Sivananda video meeting saints in India (Sivananda chanting)
YouTube with Sivananda in a variety of videos spliced together nicely! (Sivananda and swamis chanting as sound track)
YouTube opens with Venkatesananda giving Pada Puja to his master, Swami Sivananda (Soundtrack various singers)